December 20, 2019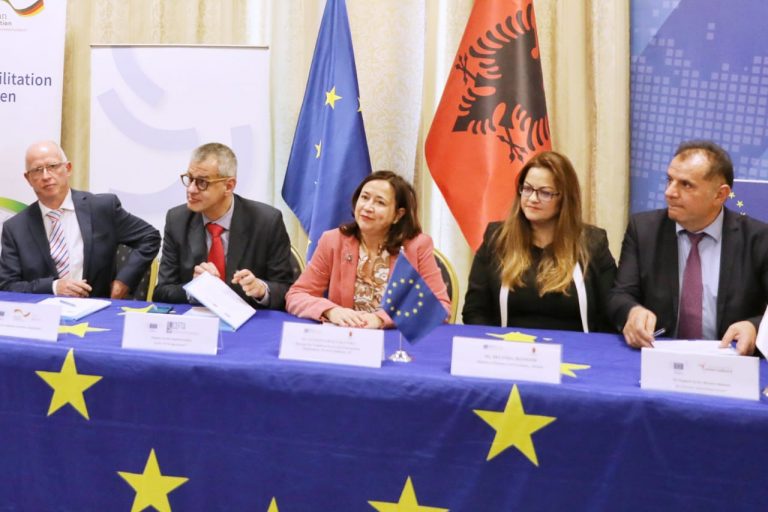 Today, during the CEFTA week, the European Commission signed €10 million in EU grants to foster further regional economic integration
The European Commission sees regional cooperation as a crucial element for prosperity for the Western Balkans and an essential part of its EU accession path. A region which practices a free flow of goods, services, people, and capital is a region that demonstrates progress towards the EU.
The EU's support for Western Balkans efforts in this regional endeavour has been further reinforced today (Wednesday, 18/12/2019) in Tirana with the signing of three new funding contracts with the Secretariat of the Central European Free Trade Agreement (CEFTA), the Western Balkans 6 Chamber Investment Forum (WB6 CIF), and the German Agency for International Cooperation, Deutsche Gesellschaft für Internationale Zusammenarbeit (GIZ) GmbH.
Appropriately, the contract was signed during the annual CEFTA WEEK, described by the Director for the Western Balkans at the European Commission, Genoveva Ruiz Calavera, as "an important moment to assess the progress made in enhancing the region's trade. This CEFTA week, under the chairmanship of Albania, has been very successful with the adoption of important commitments to liberalise trade in services. The contracts we signed today will greatly contribute to turn these into tangible results for the benefit of the business and economic operators of the region".
The new grants are a tangible sign of EU's long-standing commitment to help the Western Balkans to create a regional economic area. The grants' principal objectives will be:
Supporting the CEFTA agenda, notably in trade in goods and services, helping to enhance regional economic integration (€2.8 million of EU contribution).
Emir Djikic, Director of CEFTA Secretariat: "the European Commission provides a valuable support to CEFTA to advance in both the regional integration agenda and its gradual convergence of the CEFTA Parties to the EU agenda. This grant comes at a pivotal moment to make progress in areas such as trade facilitation in goods and services, and e-commerce".
Helping administrations to implement CEFTA agreements in trade facilitation and trade in services so they become operational for companies from the region (€4.4 million of EU contribution).
Sandra Schenke, Head of Division South-East Europe and South Caucasus at GIZ: "it is an honour to implement this project, providing continuous support to enhance regional cooperation and EU approximation efforts. The CEFTA trade facilitation and liberalisation efforts provide considerable impetus to regional economic integration".
Ensuring that the voice of the businesses is heard, and that companies – particularly small and medium ones – are aware of new opportunities the regional economic area offers to them (€2.5 million of EU contribution).
Marko Cadez, President of the WB6 CIF Managing Board: "Over the next three years, this project will support more than 1,200 SMEs from all the Western Balkans to improve their export potentials, enter new markets, become suppliers of multinational companies, and attract foreign investments".