December 2, 2021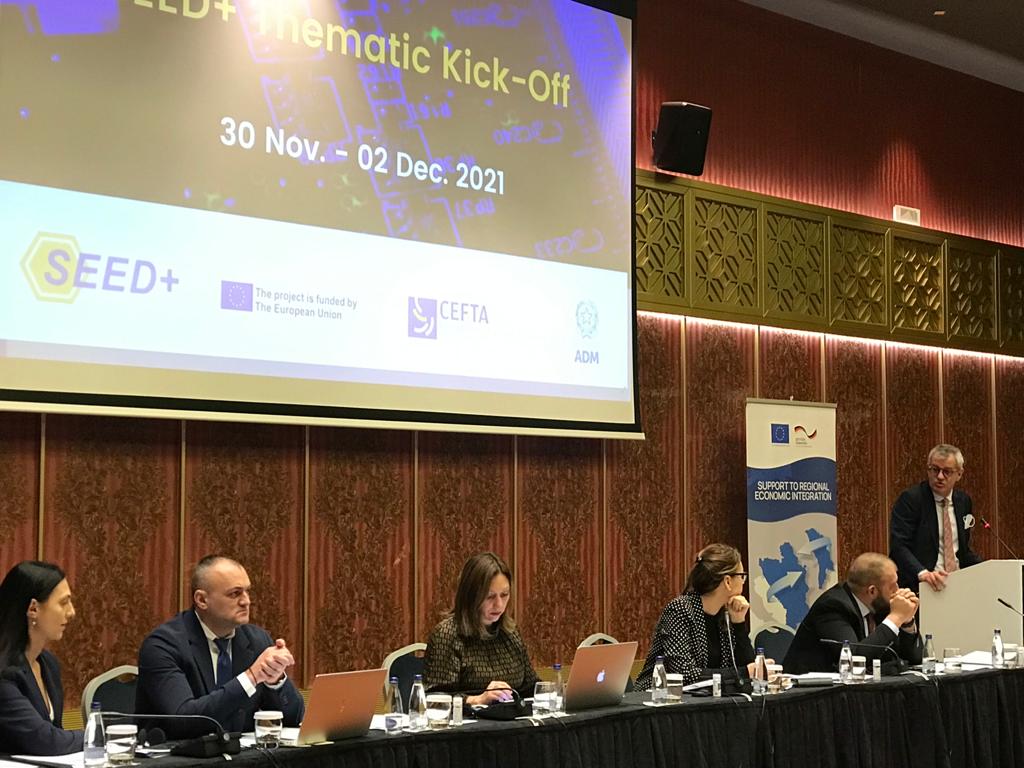 Systematic Exchange of Electronic Data (SEED) has been implementing since 2010 and has enhanced management of BCPs/CCPs in the Western Balkans. Upgraded SEED+ will additionally improve efficiency and simplify procedures. Those were the key messages shared at SEED + Kick-Off Meetings, held in Budva, Montenegro.
In practice, SEED and SEED+ stands for significant reduction of the waiting times at crossing points, simplification of inspection, reduction of formalities and reduction of costs.
Meeting in Budva has gathered representatives of customs administrations, phytosanitary institutions and veterinary institutions of all CEFTA parties, European Commission and Italian customs authorities that are also SEED implementing partners.
Mr Emir Djikić, CEFTA Secretariat Director, stated that SEED+ stands among leading CEFTA priorities that will in addition to exchange of data between Customs Administration, also include all the agencies involved in clearance of goods, and eventually it will be extended to trade in services. Additionally it wil have positive impact on trade flows, as forseen in the Action Plan for establishing Common Regional Market. SEED+ will also set the ground for introduction of e-certificates, leading to paperless trade in CEFTA, which until recently was considered as a distant future.
SEED had a crucial role in implementing Green Corridors initiative. Maciej Popowski, acting Director General for Neighborhood Policy and Enlargement Negotiations emphasized that Green Lanes demonstrated strength and importance in regional economic and trade cooperation.
"This exceptional times make the work you have carried out over the last year even more impressive. This is particularly visible in the Green Lanes. You can count on our support to continue with achievements in this area and make them as visible as possible in practice. There is no doubt that Common Regional Market has the potential to bring substantial and sustainable benefits for the Western Balkans. Common regional market is the best way towards European market and EU." said Popowski.
What will SEED+ look like in practice
Implementation of SEED+ will enable easier inspection process and reduce formalities in exchanging data between different administrations concerning clearance of goods.
SEED+ will encompass two main traits: development of CEFTA TRACES NT, digital platform to enable electronic exchange of certificates and upgrade of current SEED for customs.
CEFTA TRACES NT shall enable generation and processing of phytosanitary, veterinary and pharmaceutical certificates and entry documents in CEFTA Parties in line with the EU acquis and EU Member States' practices. It will also provide notifications system and rapid exchange of information on non-compliant consignments for animals and goods thus facilitating the risk management of rejected consignments.
Customs SEED upgraded to Customs SEED+ will provide better communications between different customs administrations in the region and establish additional data exchange links, upgrading customs SEED modules and improving regional customs risk management.
Ministries of trade, customs administrations, veterinary and phytosanitary institutions and public health institutes will be final beneficiaries of SEED+. All CEFTA parties representatives will be trained to use new SEED+ system and will receive technical support and user documents.