May 29, 2023
Brussels, 29 May 2023 – Danijela Gacevic has assumed the position of Acting Director of the CEFTA Secretariat, and in that position, she replaced the previous Director Emir Djikic.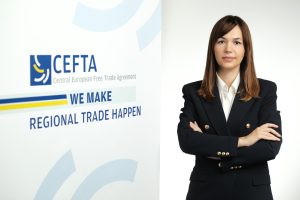 With more than 15 years of experience in the field of international trade, Danijela Gacevic brings a rich expertise and a proven track record to her new role. Having held various positions, she brings extensive knowledge and vast experience in national, regional, and international trade arenas. Prior to assuming this position, Danijela Gacevic served as a Senior Technical Expert for Trade Facilitation at the CEFTA Secretariat.
The appointment of Gacevic represents continuity in the promotion and development of free trade agenda and the strengthening of regional economic cooperation. "We remain committed to facilitating trade in CEFTA and strengthening the competitiveness of the CEFTA Parties. On that path, the experience that the newly appointed Acting Director possesses will be valuable, and which, we are sure, will be an additional driving force in the CEFTA efforts to reduce trade barriers and create new trade opportunities, through harmonizing trade policies with the EU standards," said the CEFTA Secretariat.
Danijela Gacevic holds a degree in Economics from the University of Montenegro and has pursued postgraduate studies in European Economic Integrations. She is fluent in English and a solid background also in leading teams and project management. She will assume the role of Acting Director of the CEFTA Secretariat until the appointment of a new director takes place.